According to the website of the United Nations High Commissioner for Refugees (UNHCR), more than half of the refugee children of school age do not go to school. As such, being able to go through education is considered a privilege to them, which is one of the many pressing issues they face, as access to quality education essentially is supposed to be a right. Unfortunately, given the conditions of the countries they live in, having access to it can be difficult amidst the violence, lack of resources and many other unfavourable conditions. There are a lot of NGOs fighting for the rights of this community, even making the headlines, and there are also organisations coming forward to develop solutions, particularly in the issue enabling refugee youth to have access to quality access to education. In this post, we will look at the Vodafone Instant Network Schools highlights and drawbacks as well as an alternative solution.
Vodafone Instant Network Schools
Vodafone Instant Network Schools programme is an initiative led by Vodafone that aims to help refugee students get access to quality education and improve their ICT literacy and digital skills. The Instant Network Schools programme connects classrooms to the internet providing connectivity, power, tablet computers, mobile content and teacher training which provides previously remote and isolated communities with access to a wealth of educational content and resources. The Vodafone Foundation believes that this link to the outside world can be a "game changer" for education programmes in refugee camps and will be critical for the long-term future of those children and their communities.
Aims
The foundation has been working together with the United Nations High Commissioner for Refugees since 2013 to help enhance the quality of education in refugee camps. As of Dec 2019, the project has benefited over 86,500 refugees and 1000 teachers. The project aims to enable up to 3 million refugees in countries where Vodafone operates to access a digital education by 2020.
Currently, the Vodafone Instant Classroom project is being held in 4 countries, which are Kenya, DR Congo, Tanzania and Sudan. They plan to expand it to 6 countries by 2025, namely: Kenya, DR Congo, Tanzania, Mozambique, Egypt and Ghana.
Equipment
The equipment used for their Instant Network Schools, which is essentially a 'digital school in a box' that can be set up in a matter of minutes include
25 tablets
Laptop for the teacher
Projector
Speakers
3G Connectivity/WiFi Router to connect to the internet
Inbuilt charging solution to recharge all tablets and the laptop at the same time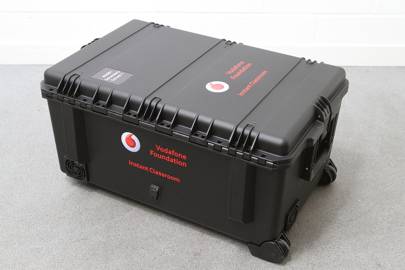 Instant Network Volunteers
For the project team, there are a total of 70 trained Vodafone employees who remain on standby, ready to be deployed to help set up the schools, and manage the on-site introduction and support hand in hand with UNHCR.
Impact
The programme has shown positive impact on the learning outcomes. There has been an increase in informational communications technology literacy by 60% for the students, and by 125% for the teachers. It has also been reported that there has also been an increase in confidence, motivation and academic performances of the students. It has thus been proven to be a feasible and effective solution to give access to the refugee children by setting up remote classrooms.
Vodafone Instant Network Schools programme is an excellent initiative to help these refugee children to also have a chance to study and learn, a way for them to live a second chance by getting their education, and giving more opportunities for the children to pursue higher education as well. With its positive impacts thus far, and expansion plans, it offers hope for the young refugees who have had their educational growth stunted because of the conditions they live in, the ongoing conflicts and the uncertainty they go through in the place where they stay.
Possible Limitations of Vodafone Instant Network Schools
However, there are also countries where war-zones have been adversely impacted in terms of infrastructure and there is a huge lack of resources, whereby the setting up the Vodafone Instant Network Schools may not be as feasible as there might not be an opportunity to fully utilise them. For example, there might be countries facing difficulties in terms of internet access, that could be due to poor connectivity as most refugees live in rural environments or internet bans imposed by authorities. There are also countries that are more prone to natural disasters than others. Another factor to consider is the intensity of the violence that happens within warzones, where there would be a high possibility of the classroom assets being destroyed, making it harder to flee should it reach that extent. There is also a demand for quality education in these adversely impacted countries as well, which can require an alternative solution that is able to handle these particular unfavourable conditions. Here is where our solution comes in: CaseStudy.
CaseStudy by The Patatas
CaseStudy was developed to help increase student engagement in countries who are going through these conditions as talked about above, but with minimal amount of logistics, and keeping costs as low as possible. With the areas that Vodafone Instant Network Schools are unable to target, CaseStudy is developed to solve them. Thus, CaseStudy was born, a cost-effective digital solution that is meant to be operated under unfavourable conditions yet it is able to retain its portability and can be customisable according to the needs of its users.
Self Sufficiency – At its Best
What stands out about CaseStudy is the fact that it is really self-sufficient; being waterproof, shockproof and only requires one local teacher/personnel for audio/visual support and information, thus decreasing the need for manpower as well. CaseStudy survives on solar energy and comes with a built-in battery, and it can also be charged via a powerbank, which is an advantage when the place where classes are held may not have proper access to electricity. Our device can also show digital activities offline, which also reduces its reliance on internet connectivity, adding to its self-sufficiency.
Cost-Effective
In the device used in CaseStudy, what makes it capable of storing, receiving and broadcasting information in sufficient amounts but in a cost-effective manner was Raspberry Pi. Basically the Raspberry Pi is a credit card–sized computer that plugs into your TV or display, and a keyboard and mouse. This is what made CaseStudy a really affordable solution while allowing enough information to be stored in it for the teaching, amounting around $100 – $150 SGD, another reason that minimises the need for internet access.
CaseStudy was developed with the aim of being an opportunity to open up more ways to bring technology to remote countries. As of now, The Patatas is currently in discussion with several organisations to bring CaseStudy to communities in Kenya, Myanmar and Bangladesh.
The need for education has always been a pressing issue for many different communities in the world, however for refugee communities, the need for a viable solution lies not only because of  the logistical and technical solutions necessary to make it happen, but also due to the constant uncertainty they live in. As such, projects like the Vodafone Instant Network School and CaseStudy cater to those conditions, while having their own strengths to do their best to give refugee children a second chance – by providing them with quality education.
We are a social enterprise based in Singapore committed to providing digital and technological solutions for NGOs, committed activists and small businesses. We have also initiated various other projects and solutions aligning with our vision of using technology to bring about positive change in underrepresented communities.
Our previous projects include the Digi-Eskwela, a supplemental education using an educational tablet for children who live in poorer countries, who do not have access to such technology. In collaboration with the Tiwala Kids & Communities, we carried out e-learning trials with children under different settings and received positive insights regarding improvements in literacy and numeracy skills among the children.
Here is what the Tiwala Kids have to say about this programme:
The combination of gamification and mobile technology in education has proven to be an essential supplement in children's learning. As such, we are constantly expanding the e-learning programme and expanding their network of collaborative partners in Asia.
Our company has executed many such successful projects in collaboration with various NGOs and small businesses including Red Pencil International, International Rice Research Institute and more. If you would like to know more about our projects or wish to contribute in any way, you can check out our website or even reach out to us via our email at info@thepatatas.com.